botissCARE Cube Reader
In vitro diagnostics device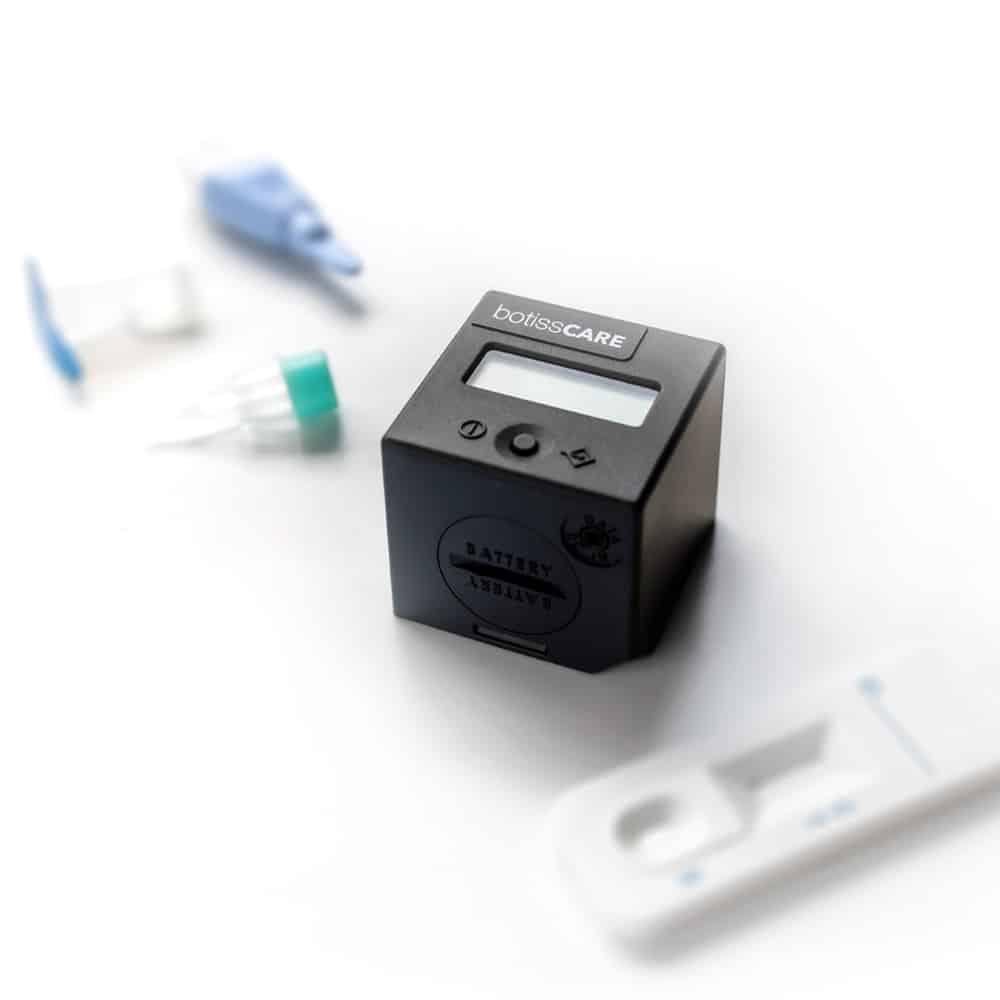 The botissCARE Cube Reader for quantitative vitamin D testing provides you with a fast, reliable point-of-care solution that allows you to capture one of the most important health parameters for successful dental treatment chairside.
This enables faster clinical decision making without the need for costly laboratory testing. As a result, you receive an immediate basis for an optimized treatment planning.
INTEGRATION INTO THE
DAILY ROUTINE
The small, easy-to-use Cube Reader can be operated by practice staff, making it effortless to integrate into your routine. You can expand your status as a point-of-care provider and trusted advisor for your patients. Directly in your practice, with just a few drops of blood from the fingertip – in just 15 minutes.
*At the present time, we ship these products exclusively to dentists with practices in Germany. We will be happy to inform you when further countries are added. To stay up to date, please register here for our newsletter.
RELIABLE
The test was standardized according to the gold standard in vitamin D diagnostics – liquid chromatography-mass spectrometry (LC-MS/MS), and shows 98 % correlation in the measurement 1.
RESULT IMMEDIATELY
The result is available to you within only 15 minutes and can be directly taken into account in further treatment planning.
EASY-TO-USE
The simple handling as well as the handy intuitive design allow a quick and easy integration into the treatment planning. The Cube Reader is small and space-saving.
The botissCARE Cube Reader is an in vitro diagnostic device that reads and quantifies the results of a botissCARE vitamin D test (Rapi-D TestTM). It is an easy-to-use reader, small, light and cost-effective. By placing the supplied chip card (RFID technology) on the device, the Cube Reader is calibrated to the current batch of the vitamin D test.
Name botissCARE Cube Reader
Art. Nr. VD_CUBE
Description Easy-to-use reader for standard lateral flow assays and Europium-based fluorescence tests
Application Device for quantification, semi-quantification or qualification of test-line intensity.
Test Format botissCARE Rapi-D™ test cassettes
Weight Approx. 1.4 oz (40 g)
Configuration Specific configuration program; RFID technology
Box content 1/Box
Adaptable to standard lateral flow test
Cost-effective, small and lightweight
User-friendly one-button operation
Fast results in as little as 3 seconds
Quantitative result eliminates uncertainty and possible misinterpretation
Standardized according to the gold standard (LC-MS/MS)
Results obtained with the Rapi-D™ quantitative vitamin D test are interpreted with following messages:
| 25-OH Vitamin D Level (ng/ml) | Result Message |
| --- | --- |
| < 10.0 ng/ml | DEFICIENT |
| ≥ 10.0 – < 30.0 ng/ml | INSUFFICIENT |
| ≥ 30.0 – < 100.0 ng/ml | SUFFICIENT |