100% PURE BONE MINERAL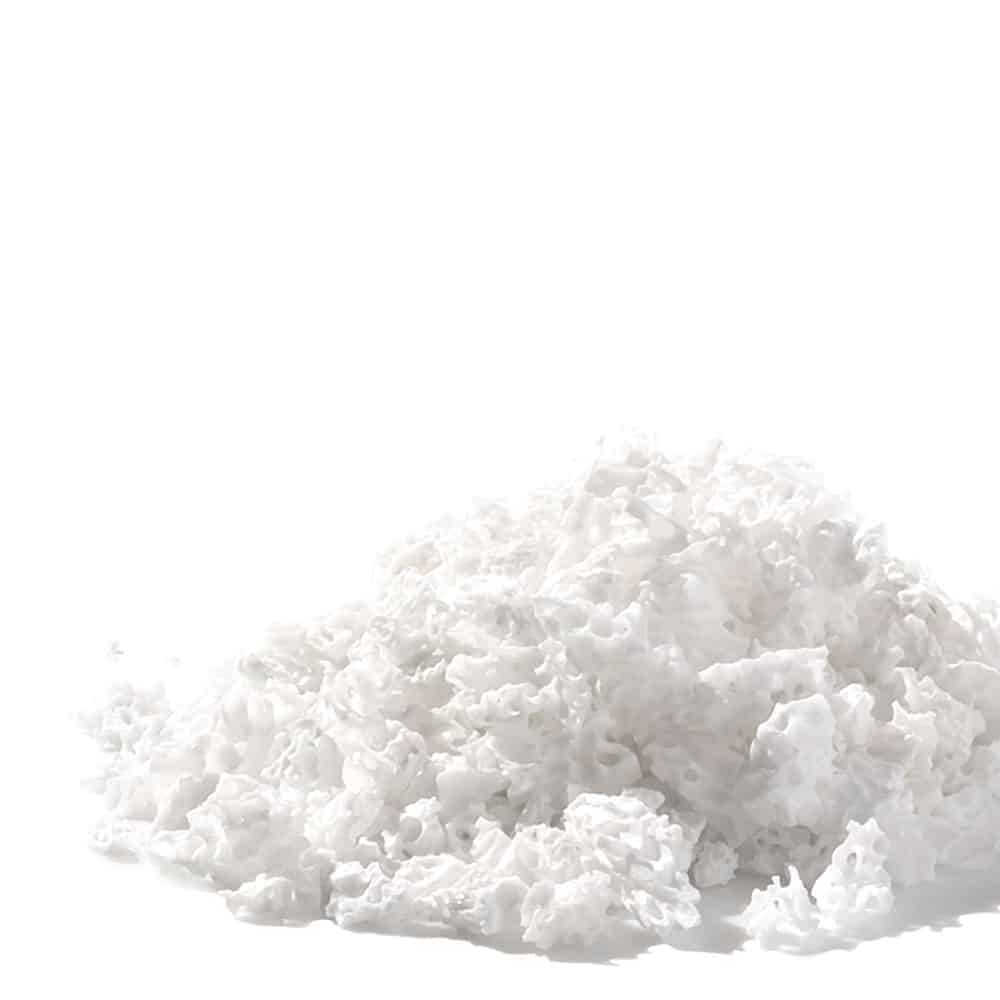 ULTIMATE VOLUME STABILITY
cerabone® is a 100% pure bone mineral of bovine origin manufactured by a unique 1200°C production process. It has been successfully applied in millions of patients in regenerative dentistry and has been in use for more than 20 years in various medical applications (e.g. craniofacial surgery, oncology and hand and spine surgery).
The sophisticated processing of the bovine bone removes all organic components resulting in a bone mineral with exceptional purity1. In addition, potential infectious agents such as bacteria, viruses and prions are removed through the high temperature treatment 2. Both product and production process are fulfilling applicable national and international regulatory and safety requirements for bovine bone grafts including ISO 22422-1, ISO 22442-2 and ISO 22442-3.
Generally, the high stability of cerabone® makes it the ideal choice in cases where long-term stability is important.
IMPLANTOLOGY, PERIODONTOLOGY AND ORAL AND CMF SURGERY
Sinus lift
Horizontal and vertical augmentation
Ridge preservation
Peri-implant defects
Socket preservation
Bone defect augmentation
Periodontal intrabony defects
Furcation defects (class I and II)
Choice of particle size
Small cerabone® particles (0.5 – 1.0 mm) allow good adaptation to surface contours; they are especially useful for lateral augmentations or to fill voids when working with autologous bone blocks. For sinus lift and extensive augmentations the use of large cerabone® particles (1.0 – 2.0 mm) is recommended. The increased space between the large particles enables a better vascularization and improves the regeneration of larger defect
Hydration
cerabone® granules can be applied dry or wet. Hydration in blood or sterile saline solution facilitate the handling and application of the granules, as they adhere to each other
Compacting of the granules
To provide space for the regenerative process only gentle compression of the granules is recommended. It allows for revascularization and osseointegration of the bone grafting particles by the three-dimensional pore network of cerabone®.
Stabilization of the granules
The cerabone® granules should always be covered by a membrane in order to immobilize the particles at the augmented site and to prevent soft tissue ingrowth into the bone defect. When treating defects outside the ridge contour, a fixation of the membrane by pins or screws can be advantageous.
Healing time and re-entry
A healing time of at least 6 months is recommended before re-entry to ensure stable integration of the particles.
Mixing with autograft
Mixing of cerabone® with autologous bone adds a biological activity (osteoinductive and osteogenetic properties of autologous bone) and supports faster regeneration and improved formation of new bone.
Mixing with allograft (maxgraft®)
Mixing of cerabone® with allogeneic bone (maxgraft®) combines the advantages of both materials; the biological potential of maxgraft® and the long-term stability of cerabone® lead to fast regeneration of vital, strong bone.
100% pure natural bone mineral
Human-like bone structure
Rough, hydrophilic surface
Ultimate volume stability
Easy handling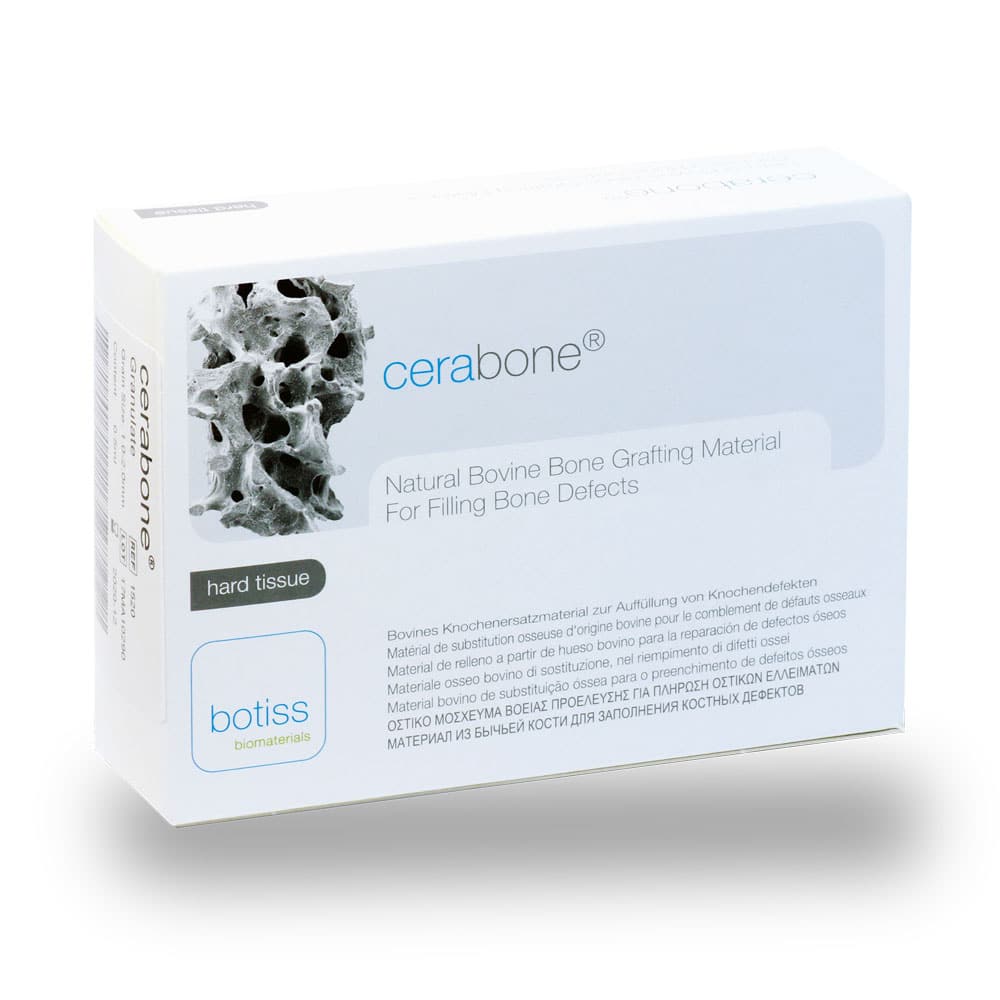 Product Specifications
| Art.-No. | Particle Size | Content |
| --- | --- | --- |
| 1510 | 0.5 – 1.0 mm | 1 × 0.5 ml |
| 1511 | 0.5 – 1.0 mm | 1 × 1.0 ml |
| 1512 | 0.5 – 1.0 mm | 1 × 2.0 ml |
| 1515 | 0.5 – 1.0 mm | 1 × 5.0 ml |
| 1520 | 1.0 – 2.0 mm | 1 × 0.5 ml |
| 1521 | 1.0 – 2.0 mm | 1 × 1.0 ml |
| 1522 | 1.0 – 2.0 mm | 1 × 2.0 ml |
| 1525 | 1.0 – 2.0 mm | 1 × 5.0 ml |
With our international network of distribution partners, we are near you in over 100 countries worldwide. In addition to our 360° productportfolio, we offer service, scientific advice and exchange, training and events directly on site from a single source.
Find a distribution partner near you:
Related Products
Jason® membrane

NATIVE PERICARDIUM MEMBRANE FOR GBR/GTR

A native collagen membrane obtained from porcine pericardium, offering multi-directional strength and tear resistance.

NATURAL BOVINE BONE SUBSTITUTE MATERIAL WITH HYALURONATE

Combines the established bovine bone grafting material cerabone® with the well-known properties of hyaluronic acid.