HIGH-DENSITY PTFE BARRIER MEMBRANE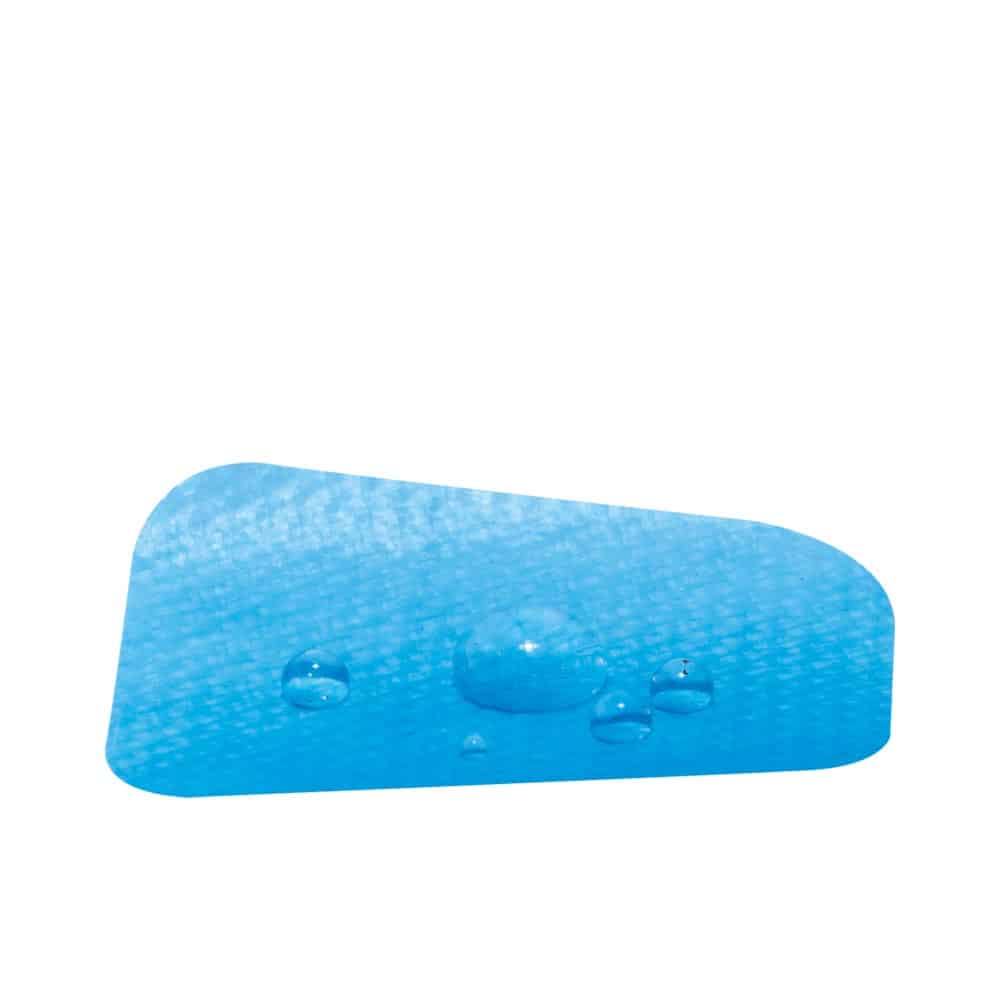 100% synthetic PTFE barrier membrane
Exceptional 360° tear strength
Supports space maintenance
permamem® is an exceptionally thin, non-resorbable and biocompatible membrane. It is composed of biologically inert, high-density polytetrafluoroethylene (PTFE), which acts as an efficient barrier against bacterial and cellular penetration, and can therefore be used for open healing in certain indications. In addition, an easy removal of the membrane is enabled as no adjacent tissue grows into it. permamem® maintains its structural characteristics both during the initial implantation and over the whole healing time 1, 2.
OPEN HEALING IN SOCKET AND RIDGE PRESERVATION
Since permamem® can be used for open healing in socket- and ridge preservation, primary wound closure is omitted and the soft tissue contours are maintained 3, 4. The missing flap closure avoids displacement of the mucogingival line thus preserving the attached gingiva. Likewise, the aesthetic outcome is improved as the non-surgical removal of the membrane after the healing time omits the need for big surgical incisions. After removal of permamem®, the primary healing process and the re-epithelialization of the regenerated soft tissue is completed within about one month.
permamem® is a temporarily implantable membrane for use as a space-creating barrier in GBR and GTR.
IMPLANTOLOGY, PERIODONTOLOGY AND ORAL AND CMF SURGERY
Socket- and ridge preservation (open healing)
Horizontal/vertical augmentation
Fenestration and dehiscence defects
Intraosseous defects (1 to 3 walls)
Furcation defects (class I and II)
Application
permamem® shows good handling properties thanks to its thin character (thickness ~ 0.08 mm). The rounded edges of the membrane avoid traumatization of the soft tissue. The membrane can be cut to the desired shape and size with a pair of scissors or a scalpel while maintaining sterility. To ensure membrane stability and protection of the bone grafting material, permamem® should be placed in such a way that the membrane extends three to four millimeters beyond the edges of the bone defect. A minimum distance of one millimeter to the adjacent teeth should be maintained.
Fixation
permamem® should always be immobilized at the recipient site by pins, screws or sutures. For socket and ridge preservation, permamem® can be sutured to the periosteum or a periosteal flap to achieve a tight adaptation of the membrane to the recipient site.
Removal
permamem® should be removed in accordance with the indication. For extraction socket regeneration procedures, the membrane can be removed after three to four weeks. In case of larger bone defects and augmentations with bone substitute material, the membrane can usually be removed after approximately six months. The blue color allows for easy recovery of the membrane. In open healing procedures, permamem® may easily be removed after the desired healing time in a non-surgical way with a pair of tweezers. If primary closure is obtained during membrane placement, opening of the surgical site will be required to remove the membrane. If permamem® becomes exposed because of a flap dehiscence, the membrane does not necessarily need to be removed immediately and may be left in place as it provides a barrier against bacterial penetration.
Management of soft tissue dehiscence
In case of a flap dehiscence, permamem® does not necessarily need to be removed immediately and may be left in place as the membrane provides a barrier against bacterial penetration protecting the underlying bone from bacterial colonization. The membrane can be left in place if a) no swelling and/or infection is present and b) if the margins of the membrane are still covered by the flap. The patient should be enrolled in a continuous recall to monitor the exposure (weekly control) and should be instructed to rinse with antiseptic mouthwash (0.2% Chlorhexidine) every eight hours.
100% synthetic PTFE barrier membrane
Ultra-thin (~0.08 mm)
Impervious to bacteria due to dense structure
Exceptional 360° tear strength
No need for primary soft tissue closure (indication-dependent)
Supports space maintenance (as compared to collagen membranes)
Easy recovery thanks to blue color
Rounded edges for minimal tissue trauma
Easy fixation with sutures or pins
Either side may be placed towards the defect site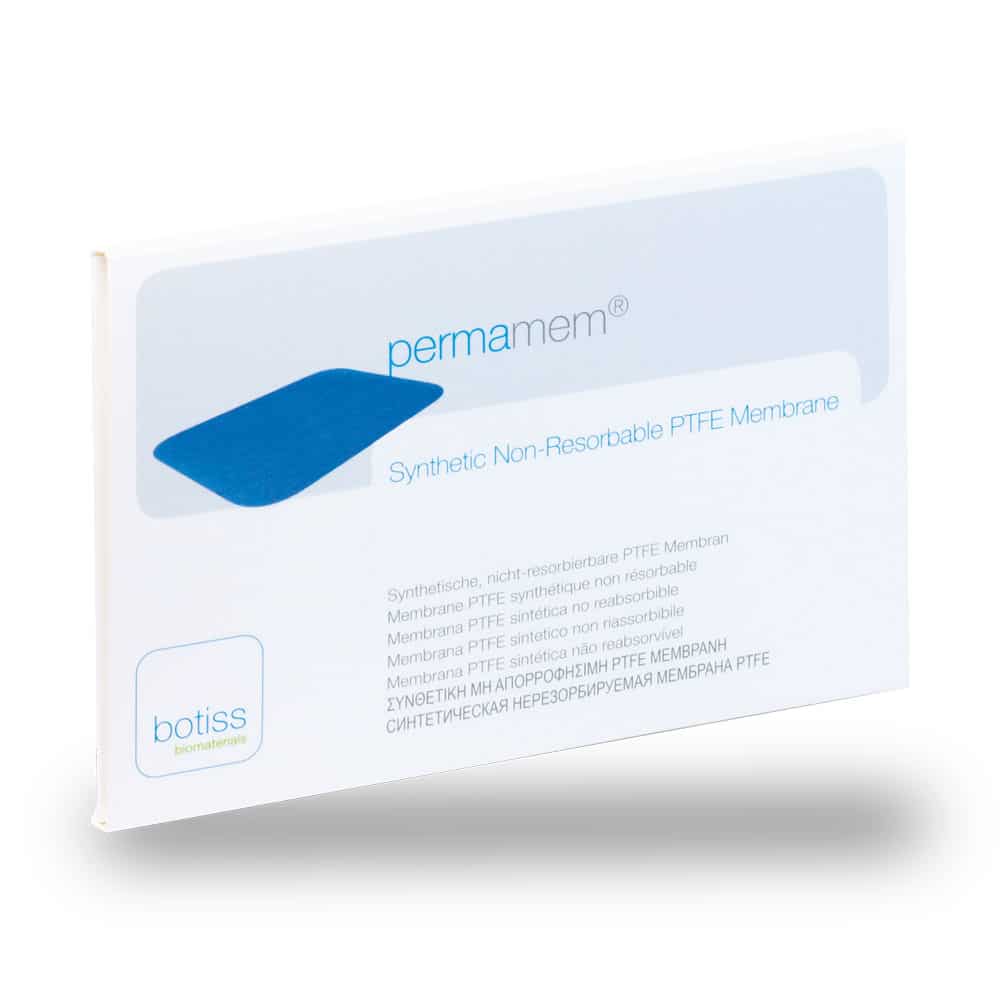 Product Specifications
permamem® is provided in the following dimensions:
| Art.-No. | Size | Content |
| --- | --- | --- |
| 801520 | 15 x 20 mm | 1 membrane |
| 802030 | 20 x 30 mm | 1 membrane |
| 803040 | 30 x 40 mm | 1 membrane |
With our international network of distribution partners, we are near you in over 100 countries worldwide. In addition to our 360° productportfolio, we offer service, scientific advice and exchange, training and events directly on site from a single source.
Find a distribution partner near you:
Related Products
Jason® membrane

NATIVE PERICARDIUM MEMBRANE FOR GBR/GTR

A native collagen membrane obtained from porcine pericardium, offering multi-directional strength and tear resistance.