Jason® membrane
Native pericardium GRB/GTR membrane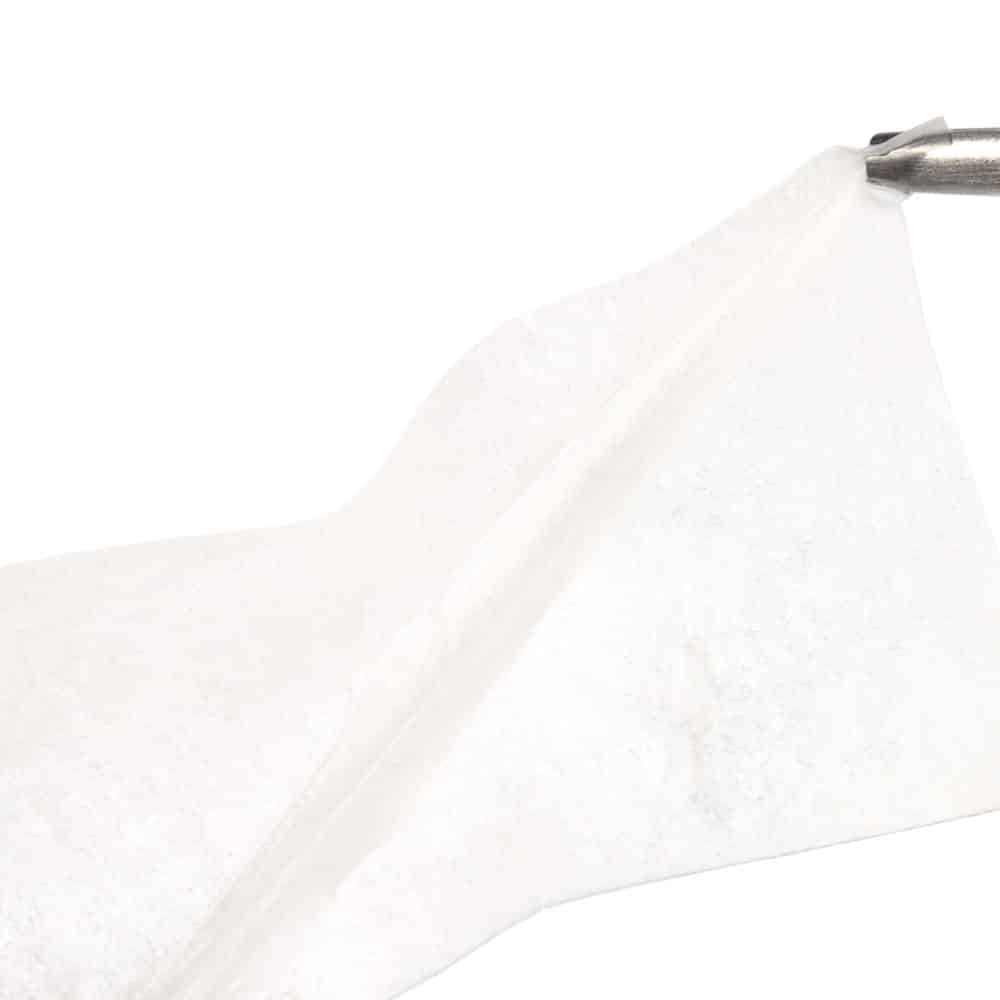 remarkable tear resistance
Effective surface adaption
Naturally long barrier function
Jason® membrane is a native collagen membrane obtained from porcine pericardium, developed and manufactured for dental bone and tissue regeneration. Besides its very low thickness it provides a naturally long barrier function based on the specific composition and structure of the pericardial collagen fibers 1,2. Owing to the preservation of the natural biomechanical properties of the pericardium, Jason® membrane exhibits beneficial handling characteristics such as a remarkable tear resistance and effective surface adaptation3.
naturally long barrier function and favorable handling characteristics
Due to the unique production process, the superior properties of the native pericardium are preserved during the extensive cleaning procedure that is applied for the production of Jason® membrane. Therefore, Jason® membrane shows a natural honeycomb-like, multilayered collagen structure with an increased content of collagen type III leading to a remarkable tear resistance and slow degradation of Jason® membrane 2, 4, 5, 6. This ensures a natural long barrier function, making the Jason® membrane our recommended choice particularly for large augmentative procedures.
Jason® membrane offers a naturally long barrier function, which is especially advantageous for the regeneration of larger defects or more extended augmentative procedures. Moreover, due to its low thickness, Jason® membrane is particularly beneficial in patients with thin biotypes or, generally, if a tension-free closure of the flap is difficult.
IMPLANTOLOGY, PERIODONTOLOGY AND ORAL AND CMF SURGERY
Horizontal and vertical augmentation
Ridge reconstruction
Socket and ridge preservation
Sinus lift
Protection and covering of Schneiderian membrane
Fenestration and dehiscence defects
Intraosseous defects (1 to 3 walls)
Furcation defects (class I and II)
REHYDRATION
Jason® membrane can be applied dry or pre-hydrated in sterile saline solution or blood from the defect. The initial placement of the dry membrane with subsequent application of the graft material is particularly advantageous for lateral augmentations. After rehydration the membrane can be folded over the defect.
FIXATION
Jason® membrane exhibits a remarkable multi-directional tear resistance. Therefore, it can easily be pinned, sutured or even screwed without rupturing. Jason® membrane can also be applied in the sausage technique. Although fixation of Jason® membrane is not required in many situations, due to its efficient surface adaptation, pinning of the membrane can help to prevent dislocation/migration of bone substitute particles.
EXPOSURE
Exposure of Jason® membrane should be avoided, since fast bacterial resorption significantly reduces the barrier function of the thin Jason® membrane. In case of an unstable soft tissue situation or if you expect a wound dehiscence to occur, it is recommended to cover the membrane with a collafleece® to protect the healing area. However, in case of a dehiscence the wound usually heals without complications by formation of free granulation tissue.
TRIMMING
Jason® membrane can be cut to the desired shape and size with a pair of scissors – while maintaining sterility. It may be helpful to use appropriate templates for defining the required size of the membrane.
PLACEMENT
Jason® membrane has one rough and one slightly smoother surface. The smoother, fine structured side is marked "G" at the top right corner and should be placed towards the gingiva. The rougher side should face the bone. However, there is no problem if the membrane is placed the other way around, since the long-term barrier function of the membrane will still provide sufficient protection for the regeneration site.
Naturally long barrier function
Multi-directional strength and tear resistance
No stickiness after rehydration
Excellent surface adaptation
Easy manipulation, can be applied dry or wet
Exceptionally thin (~0.15 mm)
No swelling after rehydration
With our international network of distribution partners, we are near you in over 100 countries worldwide. In addition to our 360° productportfolio, we offer service, scientific advice and exchange, training and events directly on site from a single source.
Find a distribution partner near you:
Related Products
collprotect® membrane

A native collagen membrane made of porcine dermis, which is intended for dental bone and soft tissue regeneration.

HIGH-DENSITY PTFE BARRIER MEMBRANE

An exceptionally thin, non-resorbable and biocompatible membrane.