ACELLULAR DERMAL COLLAGEN MATRIX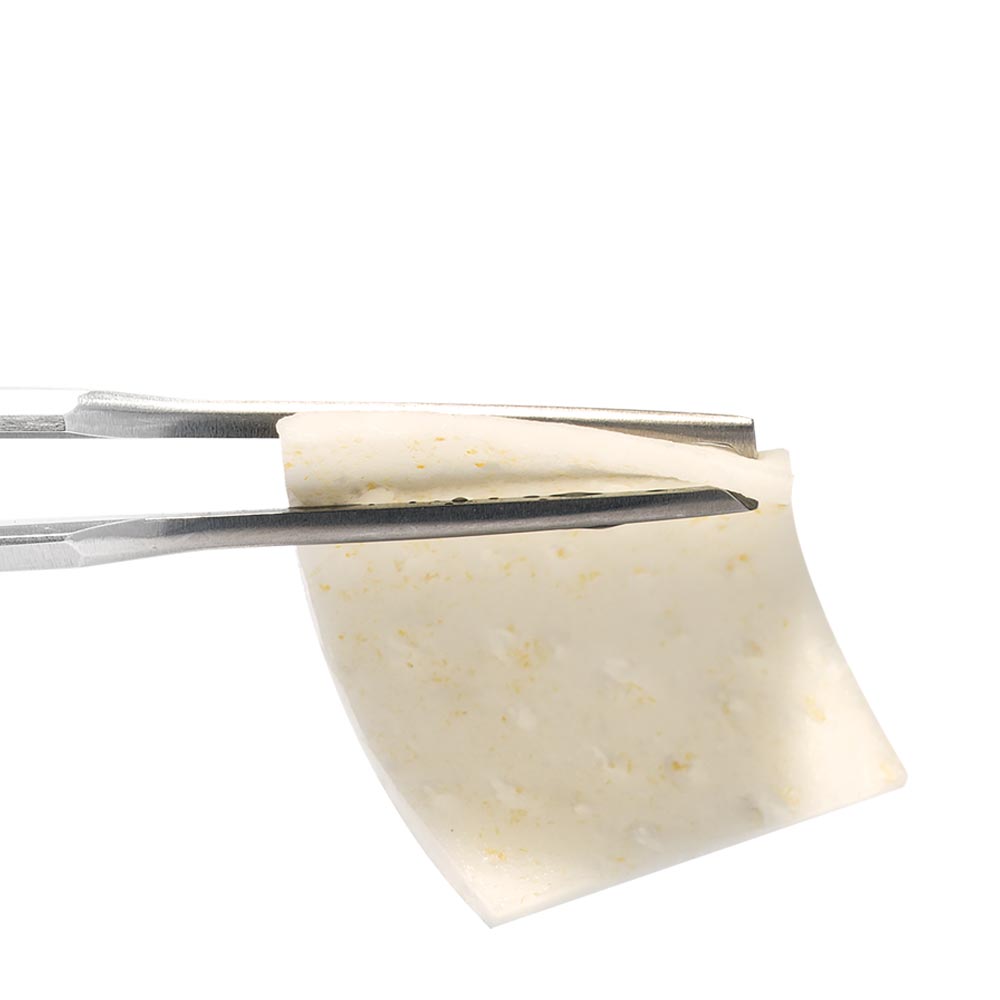 alternative to autologous soft tissue
Complete remodelling into patient's own tissue
mucoderm® is an acellular collagen matrix that offers a safe alternative to autologous soft tissue transplants in a diverse range of soft tissue grafting indications. mucoderm® is derived from porcine dermis that undergoes a multi-step purification process, which removes all non-collagenous proteins and cells as well as potential immunogens, bacteria and viruses. The processing results in a three-dimensional, stable matrix, which consists of collagen type I and III with a natural collagen structure that resembles the human connective tissue 1, 2. After implantation mucoderm® is continuously remodeled into patients own soft tissue.
SCAFFOLD FOR INGROWING CELLS AND VESSELS
mucoderm® shows a high porosity and native collagen structure making it an excellent scaffold for ingrowing blood vessels and cells, thus supporting a fast revascularization and tissue integration 3. Attracted by the signals of activated migrating and proliferating endothelial cells, blood vessels from the surrounding tissue will grow into the matrix. At the same time, fibroblasts adhere and spread onto the matrix. The simultaneous degradation of the matrix and the collagen production of adhering fibroblasts leads to a complete substitution of mucoderm® by the newly formed host tissue within about 6-9 months 4-6.
mucoderm® can be applied as an alternative to autologous soft tissue transplants such as connective tissue graft (CTG) and free gingival graft (FGG) in various indications in periodontology and implantology. The use of mucoderm® is of particular advantage in situations where autologous transplants cannot be harvested in sufficient amount or quality (e.g. in thin biotype, shallow palate or covering of multiple recessions) or if patients are afraid of and do not agree with a tissue harvesting.
IMPLANTOLOGY, PERIODONTOLOGY AND ORAL AND CMF:
Soft tissue grafting in combination with GBR/GTR
Broadening of attached gingiva (instead of FGG)
Treatment of gingival recessions
Thickening of periimplant soft tissue
Closure of extraction sockets (socket seal technique)
Oral wound coverage

 

after transplant harvesting or tumor surgery
HYDRATION
mucoderm® should always be applied after rehydration (in sterile saline, defect blood, or platelet concentrates). Rehydration should be performed for five to 20 minutes, depending on the technique used and the desired flexibility of the matrix. The flexibility of the mucoderm® increases with rehydration time. The rehydration protocol and its influence on the biomechanical properties of mucoderm® were analyzed in a study of Prof Dr. Adrian Kasaj8.
TRIMMING
Size and shape of the matrix should be adapted to the size of the defect. After rehydration, mucoderm® can be easily trimmed to the desired size with a scalpel or scissors. Cutting or rounding the edges can prevent the perforation of the gingival tissue during the flap closure. For the coverage of multiple recessions, the surface of mucoderm® can be extended by cutting the matrix on alternating sides (mesh-graft technique) and pulling it.
IMMOBILIZATION/FIXATION
Following application, mucoderm® should always be stabilized to avoid micro movements and ensure undisturbed revitalization, e.g. ingrowth of vessels and cells. When preparing a split flap, mucoderm® should be sutured to the intact periosteum to ensure close contact between the matrix and the periosteal wound bed. Single button or cross sutures may be used; the use of resorbable sutures is recommended. Both sides of the matrix are comparable, since mucoderm® shows a homogenous structure.
EXPOSURE
mucoderm® can be left exposed for open healing in situations in which revitalization from the surrounding or underlying wound bed is ensured. Always avoid exposure of mucoderm® when used in recession coverage. A close flap is also recommended when simultaneously applied with bone grafting materials. Open healing is feasible in the case of a vestibuloplasty, if mucoderm® is sutured to the periosteum. In this case mucoderm® should be closely fixed to the periosteum. This facilitates an increase in the width of the attached gingiva but not in the thickening of the tissue. Open healing is also possible if only minor parts of the matrix are exposed, and revascularization is ensured by the surrounding margins of the flap or by the underlying periosteum. Please note that the degradation time depends on the extent of the exposure and will be faster due to bacterial decontamination and resorption.
FLAP PREPARATION
mucoderm® can be used in combination with all mucogingival surgical techniques, including coronally advanced flap and tunnel techniques. Notably, the classical coronally advanced flap or the modified coronally advanced flap ensure a good view on the prepared donor bed and facilitate the coronal repositioning of the flap over the matrix. Advanced flaps need to be sufficiently mobilized to avoid tension of the soft tissue. A proper vascular supply from the prepared flap is critical to achieve an appropriate revascularization of the mucoderm® matrix 9. In particular, split flaps must be sufficiently thick to ensure revitalization of the matrix and the integration into the patient's own connective tissue. When applying mucoderm® for recession coverage, special attention must be paid to achieve sufficient flap mobilization and tension-free closure.
Straumann® Emdogain®/ Combination of mucoderm® with Straumann® Emdogain® treatment
Straumann® Emdogain® is an easy-to-apply gel containing enamel matrix derivative originating from non-erupted porcine tooth buds. As a component of embryonic tissues it is designed to promote predictable regeneration of hard and soft tissue due to periodontal disease or trauma. Gingival recessions may be treated using mucoderm® and Straumann® Emdogain® together in a single approach. Always make sure that Straumann® Emdogain® is applied all over the root surfaces before the mucoderm® matrix is placed over the roots.
Rapid revascularization and tissue integration
Soft tissue regeneration/augmentation without palatal autograft harvesting
Complete remodelling into patient's own tissue in ~6-9 months
Can be easily applied and fixed by sutures
Can be cut into procedure-specific shape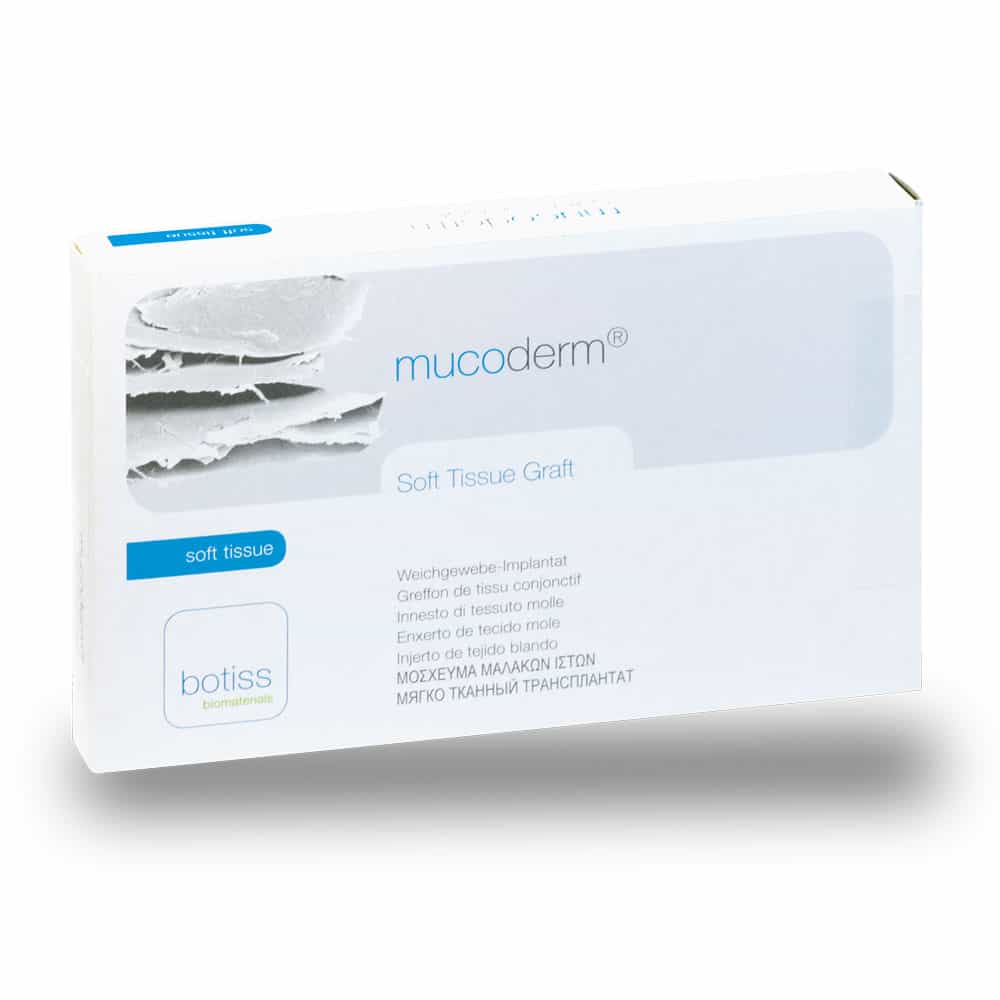 Product Specifications
Art.-No.
Size
Content
701520
15 x 20 mm
1 x 

matrix

702030
20 x 30 mm
1 x 

matrix

703040
30 x 40 mm
1 x 

matrix

710210
Ø 10 mm
1 × punch
With our international network of distribution partners, we are near you in over 100 countries worldwide. In addition to our 360° productportfolio, we offer service, scientific advice and exchange, training and events directly on site from a single source.
Find a distribution partner near you:
Related Products
Jason® membrane

NATIVE PERICARDIUM MEMBRANE FOR GBR/GTR

A native collagen membrane obtained from porcine pericardium, offering multi-directional strength and tear resistance.

INNOVATIVE BIPHASIC CALCIUM PHOSPHATE

Innovative, safe, reliable, and fully synthetic bone substitute material that is characterized by controlled resorption properties.