FOUR-PHASIC INJECTABLE BONE GRAFT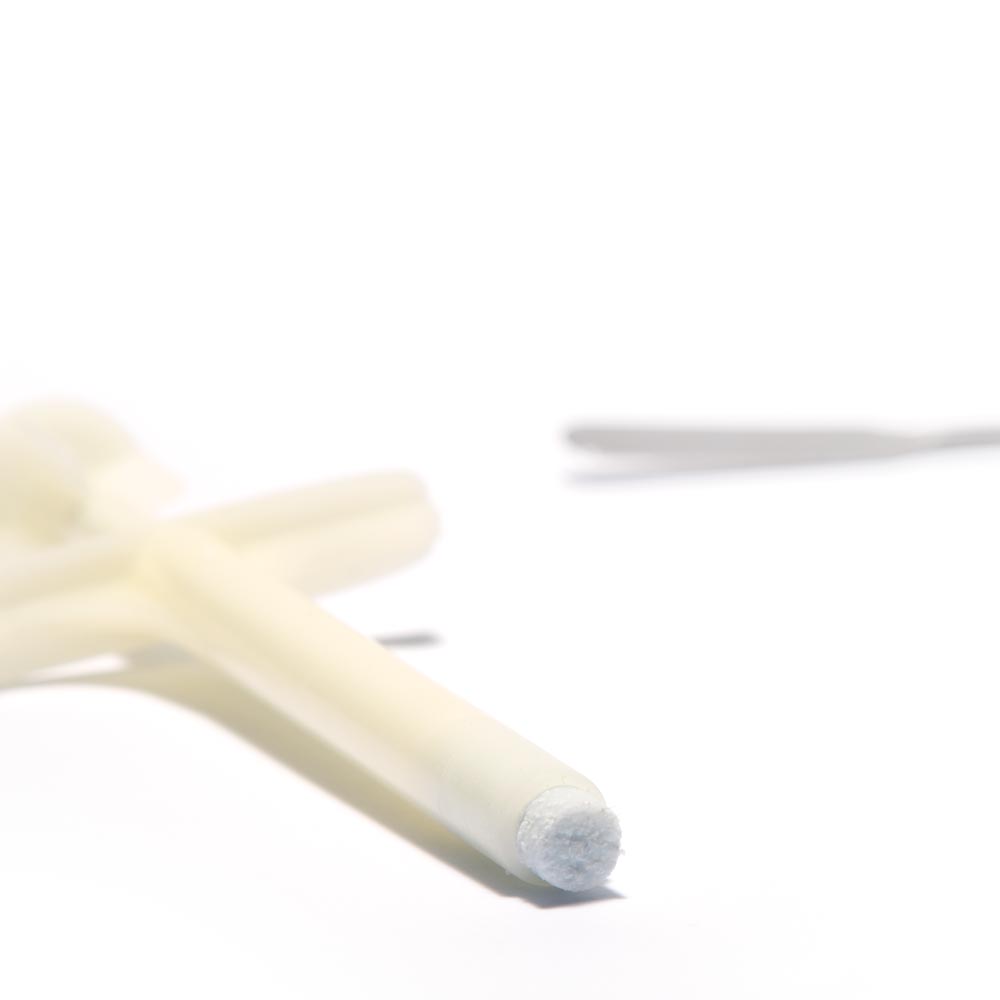 OPTIMAL ADAPTATION TO SURFACES
maxresorb® inject is a unique four-phasic injectable bone graft paste with controlled resorption properties. The water-based paste contains nano hydroxyapatite (HA) particles and is mixed with small maxresorb® granules (60% HA/40% β-TCP) 1,2. The very small HA particles provide an extensive surface for cell-biomaterial interactions, which leads to rapid resorption, thereby promoting new bone formation. In addition, the contained maxresorb® granules help to maintain the volume over time. maxresorb® inject is non-hardening and ready to use.
Owing to its specific composition, the viscous properties of maxresorb® inject allow perfect shaping, molding, fitting and complete bonding to the surrounding bone surface of the defect. The syringe allows direct and easy application to the defect site. maxresorb® inject is not hardening in situ, therefore the paste enables a very fast vascularization of the defect while providing an osteoconductive scaffold for the migration of bone forming cells. Once applied, maxresorb® inject is gradually replaced by new bone.
maxresorb® inject is particularly suitable for the regeneration of smaller defects that do not require extra volume stability. In these cases, the specific composition of maxresorb® inject offers an extensive surface area that promotes cell-biomaterial interactions, thus leading to a rapid remodeling of the particles.
IMPLANTOLOGY, PERIODONTOLOGY AND ORAL AND CMF SURGERY
Sinus lift
Socket preservation
Osseous defects
Intraosseous defects
Regeneration of small/contained defects
Gap-filling in combination with other bone substitutes
Membrane coverage
maxresorb® inject must always be covered with a membrane in order to stabilize the material and facilitate undisturbed bony regeneration.
Material stability
maxresorb® inject is designed for regeneration of smaller defects that do not require a distinct- or long-term volume stability. In these cases it provides simplified handling compared to the application of particulate materials. However, for larger augmentations maxresorb® inject is not the material of choice due to insufficient stability, i.e. fast resorption. The main component of the material (83.5 %) is a water-based paste containing nanosized HA particles which are resorbed within ~6-8 weeks.
Material application
maxresorb® inject can be applied directly into the defect through the syringe. It is also possible to form it before application onto the defect, or to insert it with the help of a spatula.
Mixing of material
The paste is ready to use, but it can also be mixed with blood, autologous bone or bone substitute materials.
Storage temperature
Please make sure that maxresorb® inject is stored at the recommended storage temperature (5-30°C). The main component of the bone substitute material is a water-based paste with nanosized HA particles. Elevated temperatures will cause water evaporation, resulting in drying of the paste. Likewise, freezing of the water component may result in changes of the material properties that cannot be reversed.
Synthetic and resorbable
Ready to use, easy handling
Viscous and moldable
Optimal adaptation to surface contours
Non-hardening
Active nano HA particles
Contains 60% HA/40% β-TCP
Product Specifications
| Art.-No. | Unit | Content |
| --- | --- | --- |
| 22005 | 1 x syringe | 1 × 0.5 ml |
| 22010 | 1 x syringe | 1 × 1.0 ml |
| 22025 | 1 x syringe | 1 × 2.5 ml |
With our international network of distribution partners, we are near you in over 100 countries worldwide. In addition to our 360° productportfolio, we offer service, scientific advice and exchange, training and events directly on site from a single source.
Find a distribution partner near you:
Related Products
NATURAL BOVINE BONE SUBSTITUTE MATERIAL WITH HYALURONATE

Combines the established bovine bone grafting material cerabone® with the well-known properties of hyaluronic acid.

INNOVATIVE BIPHASIC CALCIUM PHOSPHATE

Innovative, safe, reliable, and fully synthetic bone substitute material that is characterized by controlled resorption properties.