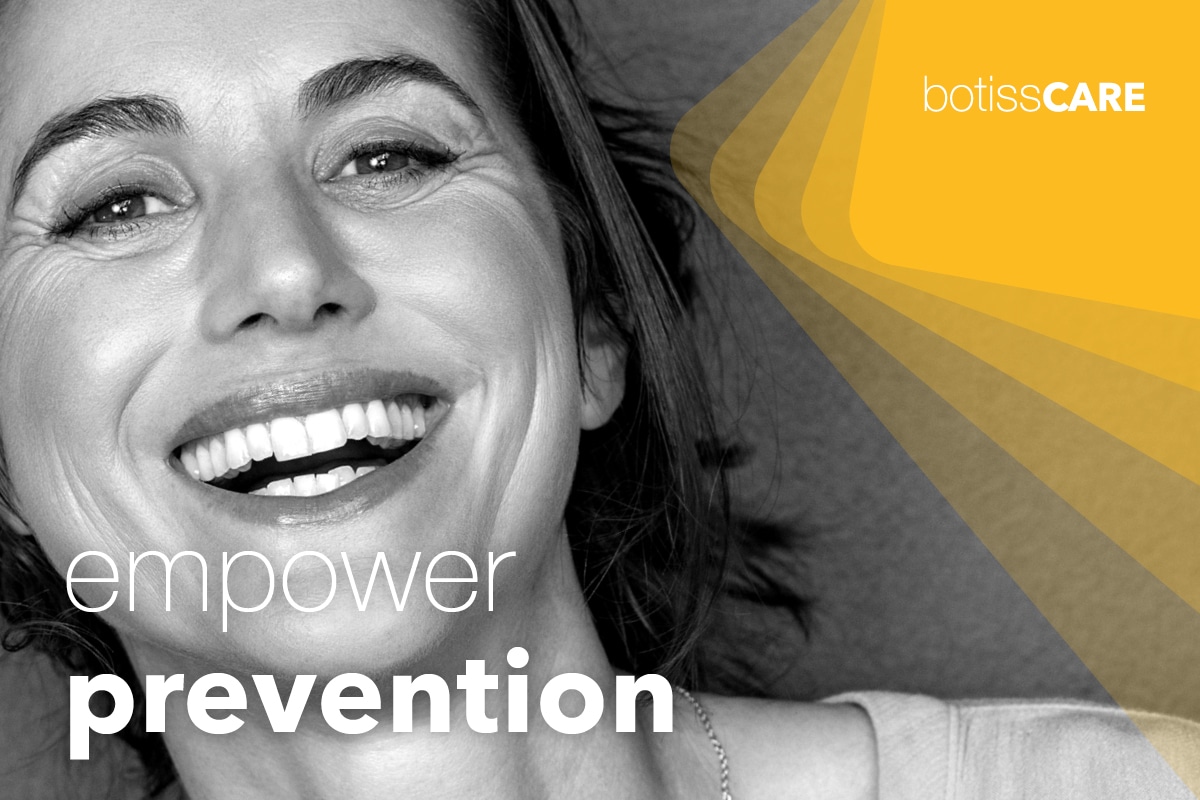 Vitamin D as a Success Factor for Oral Regeneration
Convenient Chairside System Measures Vitamin D Levels and Provides Effective Prevention for Deficiency
botiss biomaterials, the international expert in bone and soft tissue regeneration, offers botissCARE as a convenient chairside solution for measuring vitamin D levels, as well as an easily administered and effectively absorbed vitamin D3+K2 spray to prevent deficiency.
Vitamin D – An Important Factor for Oral Health
With its key role in bone mineralization and various metabolic processes, vitamin D is also crucial for maintaining oral health. Both caries and periodontal diseases have been associated with vitamin D deficiency, which is linked to reduced mineralization of the jawbone and complications in oral procedures, including implants.1,2,3,4
Dr. Miguel Stanley, a leading dentist and expert with his own clinic in Lisbon, Portugal, confirms: "Vitamin D is essential for the normal function of cells involved in wound healing and regeneration. Sufficient vitamin D levels can help reduce the risk of complications after oral procedures and accelerate the healing process."
Insufficient Vitamin D due to Lack of Sun Exposure
Vitamin D is primarily synthesized in the skin when exposed to UV-B sunlight and, to a lesser extent, absorbed through food. Unfortunately, factors such as increased screen time, indoor activities, sun protection measures during summer, and the low position of the sun in winter have contributed to vitamin D deficiency in approximately 53% of Europeans. Dr. Stanley shares his clinic's experience, saying, "Despite living in Portugal on the West Coast of Europe, we find that a significant portion of our adult patients has a vitamin D deficiency."
Point-of-Care Analysis – Quick Measurement instead of Waiting
Previously, determining vitamin D levels typically required a blood sample and time-consuming laboratory diagnostics, often through a general practitioner. In comparison, point-of-care solutions provide direct clinical results as a basis for preventive measures. For analyzing vitamin D levels directly in the dental practice, botiss offers the botissCARE Cube Reader: easy to use, very small, and portable. In combination with the reliable "botissCARE Vitamin D Test," the vitamin D level can be accurately determined within 15 minutes, similar to a blood glucose test, using a drop of blood from the fingertip.
Utilizing the Synergy of Vitamin D3 and K2
Since the two vitamins work synergistically, substituting vitamin D3 can lead to a deficiency in vitamin K26. The European Food Safety Authority (EFSA) recommends a daily vitamin D dose between 400 and 4000 IU/day. However, even with daily doses above 2,000 IU of vitamin D, the otherwise positive effects of vitamin D on calcium incorporation into bones and the removal of calcified plaques from blood vessels can be reversed.
"We have worked intensively with experts and potential suppliers to develop a supplement that includes the optimal combination of vitamin D and vitamin K," explains Dr. Svenja Rogge, Head of New Development and Techniques at botiss. "To create a premium supplement, it was also important to us that it could be easily and conveniently integrated into daily routines. That's why we chose sprays. The oil suspension is distributed very well in the mouth and directly absorbed through the oral mucosa."
The Important Extra for Treatment Planning – Test, Analyze, Prevent
Dr. Jochen Tunkel (Bad Oeynhausen) sums it up: "In my practice, the botissCARE system represents a valuable new component in my implantological and periodontal treatment concepts. Through the simple chairside application, my patients can quickly get insight into their current vitamin D levels. This enables individual and prompt decision-making regarding necessary preventive measures."
Literature:
Holick MF, Chen TC. Vitamin D deficiency: a worldwide problem with health consequences. Am J Clin Nutr. 2008 Apr;87(4):1080S-6S. doi: 10.1093/ajcn/87.4.1080S. PMID: 18400738.
Hujoel PP. Vitamin D and dental caries in controlled clinical trials: systematic review and meta-analysis. Nutr Rev. 2013 Feb;71(2):88-97. doi: 10.1111/j.1753-4887.2012.00544.x. Epub 2012 Nov 9. PMID: 23356636.
Schroth RJ, Levi JA, Sellers EA, Friel J, Kliewer E, Moffatt ME. Vitamin D status of children with severe early childhood caries: a case-control study. BMC Pediatr. 2013 Oct 25;13:174. doi: 10.1186/1471-2431-13-174. PMID: 24160554; PMCID: PMC4231606.
Scardina GA, Messina P. Good oral health and diet. J Biomed Biotechnol. 2012;2012:720692. doi: 10.1155/2012/720692. Epub 2012 Jan 26. PMID: 22363174; PMCID: PMC3272860.
Dietrich T, Joshipura KJ, Dawson-Hughes B, Bischoff-Ferrari HA. Association between serum concentrations of 25-hydroxyvitamin D3 and periodontal disease in the US population. Am J Clin Nutr. 2004 Jul;80(1):108-13. doi: 10.1093/ajcn/80.1.108. PMID: 15213036.
https://www.aerzteblatt.de/archiv/175404/Frakturprophylaxe-Vitamin-D-immer-mit-Vitamin-K2-kombinieren
EFSA Panel on Dietetic Products, Nutrition and Allergies (NDA); Scientific Opinion on the Tolerable Upper Intake Level of vitamin D. EFSA Journal 2012; 10( 7):2813. [45 pp.] doi:2903/j.efsa.2012.2813.